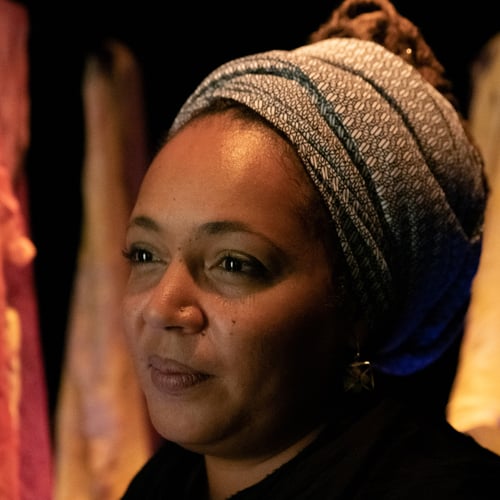 Maïmouna Jallow
Maïmouna Jallow is a multidisciplinary artist, who works as a storyteller, editor, playwright and film director. In 2021 she released her debut film, Tales of the Accidental City, an experimental feature film in which all the action takes place in Zoom. She is also a co-founder and director of the Positively African organization and artistic director of the East African Soul Train. Before that, Maïmouna worked as a producer for the BBC and in communication for Doctors Without Borders. She has an MA in African Literature from SOAS, University of London.
Maïmouna offers one to one feedback sessions on scripts and projects (in English). For more information contact: maimouna.jallow[@]googlemail[.]com
Maïmouna Jallow es una artista multidisciplinar, que trabaja como narradora, editora, dramaturga y directora de cine. En 2021 estrenó su película debut, Tales of the Accidental City, un largometraje experimental en el que toda la acción transcurre en Zoom. También es cofundadora y directora de la organización Positively African y directora artística del East African Soul Train. Antes de eso, Maïmouna trabajó como productora para la BBC y en comunicación para Médicos sin Fronteras. Tiene una maestría en literatura africana de SOAS, Universidad de Londres.
Maïmouna ofrece sesiones one to one de feedback de guiones o proyectos creativos en Inglés. Si quieres más información escribe a: maimouna.jallow[@]googlemail[.]com